[vc_row][vc_column][academia_heading title="Course İnformation" title_size="fs-18″][vc_column_text]
DREAM SIGNALS 2.5 ALPHON-OMEGA
Get ready, because your going to love this! We present to you Alphon-Omega. This system is equip with everything PLUS more to be successful in forex. If your a trader that likes basic old fashioned tools, consider this the ALPHA among those. It is so effective that even used individually, proved to be profitable. For example, the Intra-Day signal automatically generates the next days signal for you based on the previous days movement! To confirm the signals that it gives, there is a MTF AND Multi-Time indicator which you can confirm those trades with! The power of 10 CONFIRMATIONS! Also one of the best oscillators you can use is included as well. This can also be used to confirm the trades. There so many ways and combinations you can use to maximize on Alphon-Omega profits. This is a must have, and you can have it for pocket change price today, and its yours for life. This is one of our classics that actually contributed to the growth of FX-Agency, and we want you to have it!!
Take a look and see just what exactly Dream Signals 2.5 can do..
The Full setup (If you want very strong confirmation)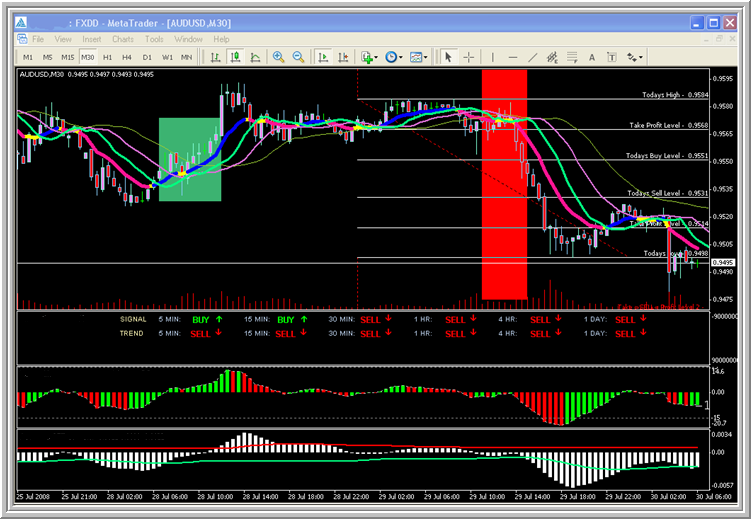 If you want the power of everything in your trading setup, this is what it will look like on your screen. You don't have to use them all at the same time if you think its going to be too busy for you. Some people use the Intra-Day Signal FIB alone. Many of these tools have the power to be used alone and still be profitable, but using at least 3 would be ideal.
Channel Trading!
A very under-estimated way of trading and very profitable. This tool will automatically plot support and resistance based on channels. Its very easy to follow and if you want a more safer way of trading this, then rather than buy or sell at the line, wait for price to retrace slightly from the line.
King of Osclillators! (Advanced GET Technology)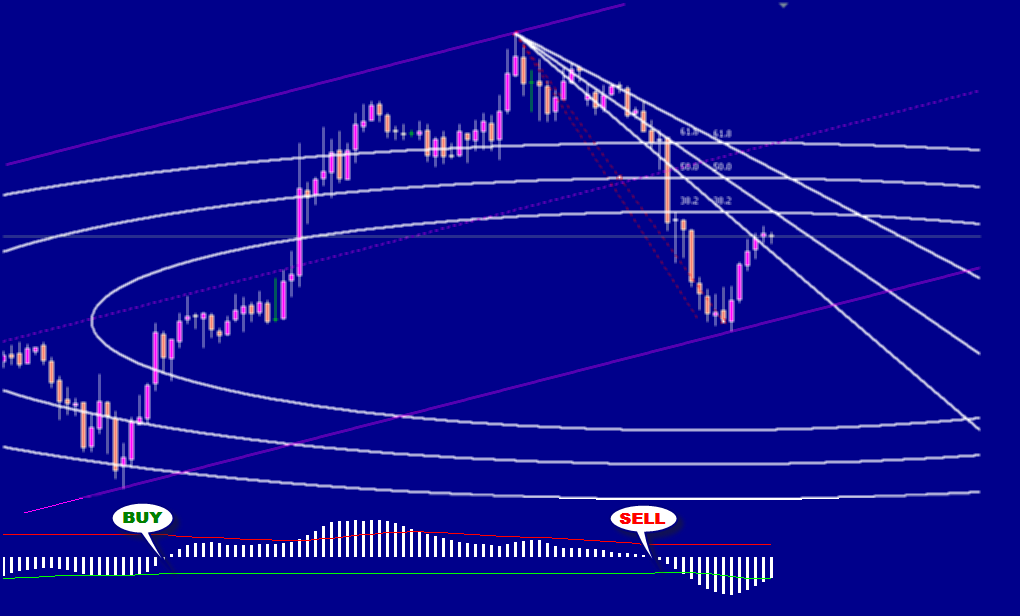 If you want the ultimate king of oscillators, this is a must have. The advanced GET Oscillator is known to be very powerful and is used by E-Signal as well! Look up E-signal and you will see that to use the Advanced GET Oscillator, you need to pay hundreds per month to use it. Of course not to say E-Signal is bad or anything. They are a great company with good service. But you will have this tool free for life. Its specially programmed to be compatible with Metatrader 4.
Anch-Buy Sell Zone like indicator with cross over confirmation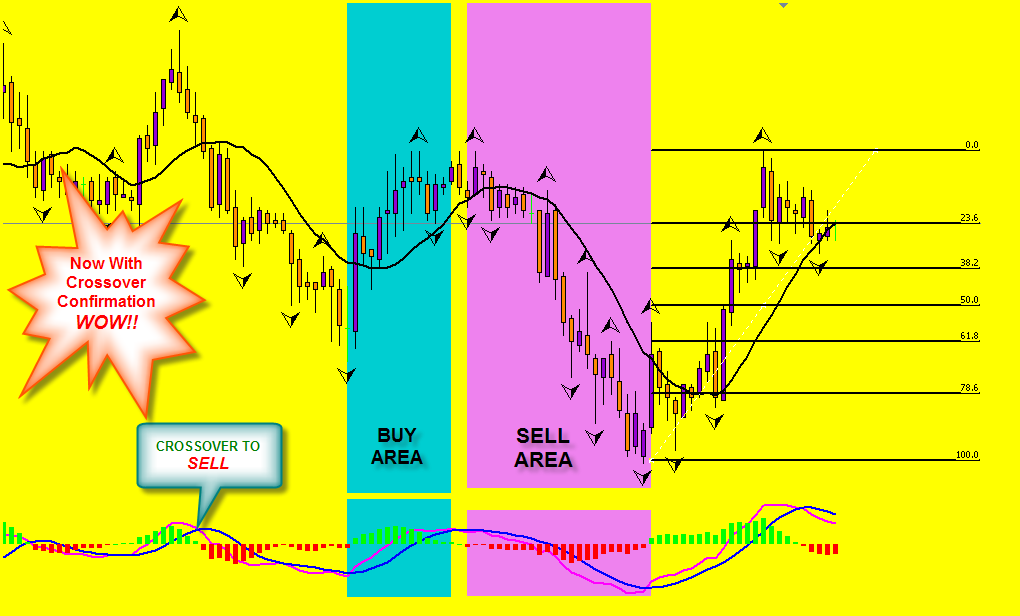 For those who have Dream Signals 2.0, you are familiar with the Anch-BuySellzone indicator. This one is very much like it except you now have 2 confirmations. One is the bars going down to zero, and the other is the 2 line crossovers. This can save you space, you don't have to pile too many lines on your chart. You can see the candlesticks better like that.
Intra-Day Signal!
This tool, is truly one of a kind. Its an auto-calculated breakout and retracement system, based on the previous days high and low using fib-like formulas. It is very profitable. What happens is when the next day begins, the signal will generate a signal. And as soon as the market hits the "Buy Level", you BUY and when it hits the "Sell Level", you sell. It always hits one of these levels especially on currency pairs like GBP/USD. Even the EUR/USD is getting pretty profitable now a days. If you want to trade with the trend, only look for the moves in that direction only. So if the trend was down, only look to for the "Sell Level". Or wait for a pull back, and then Sell!

Herb-Spirit MACD: Also what is included is a heavily traded indicator known as the MACD. But this one is special. The colors of the bars change when it has retraced from a peak and all you must do, is see the number and wait until it says ZERO and then trade.
Quick Scalping for Quick Profits!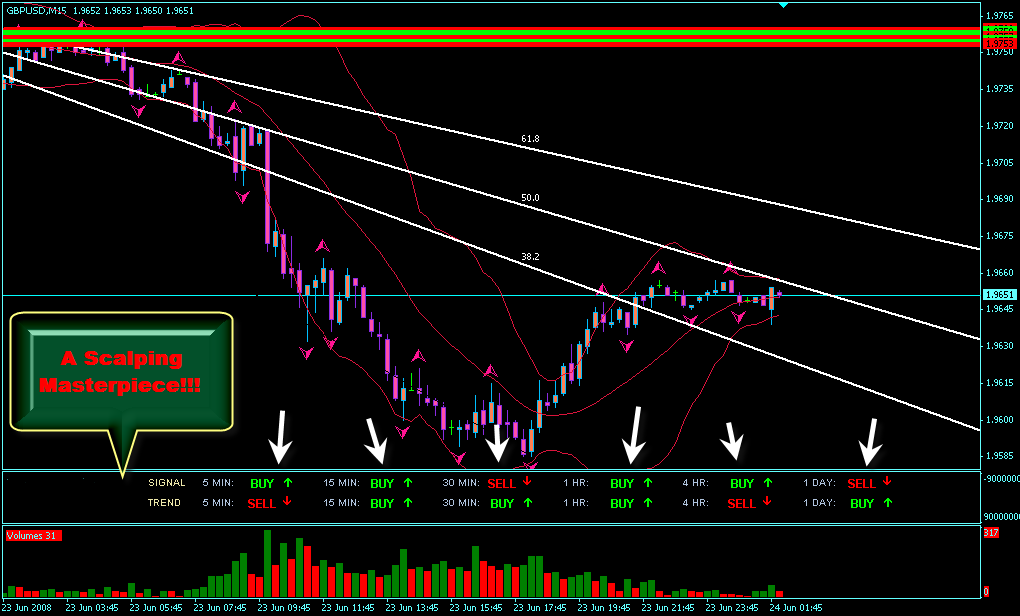 If you are a fan of scalping for a few pips and taking what you can as profit, this is a super signal. It will identify the trend and give you a signal all in one. If you want to have a better chance at winning, make sure the H4 and D1 are matching, and trade the smaller time frames in those directions only. Take whatever profits you can and get out. That's what scalping is all about.
An even more powerful scalper!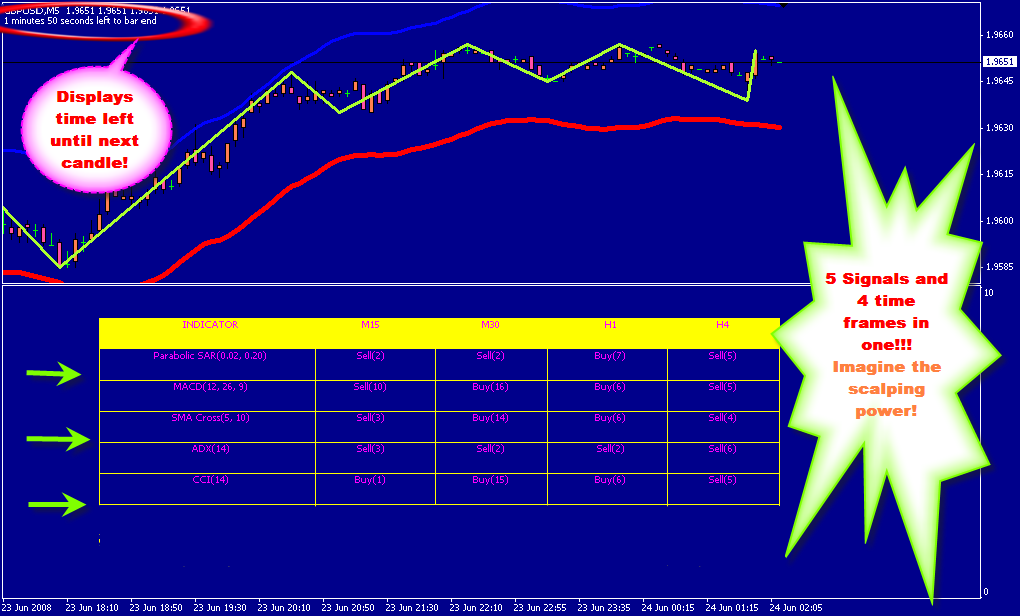 This can be considered an ALPHA version of the scalper. It not only monitors multiple time frames, it also monitors multiple indicators at the same time! MACD and SMA Cross, combined can be very profitable and now there is ADX and CCI. Just look at the BUY and SELL, in the boxes and trade in their direction. The idea is to have more BUYS or more SELLS. Trade in the direction of them. Avoid trading against the trend of the indicators. Its a fantastic scalper.
Color-changed based Trigger-line combined with Intra-Day Signal
This one is used a lot, which can makes it a winner. One special thing about this one, which no other similar indicator does, is that it identifies a "range" formation and this is where you want to avoid at all cost. Remember, a ranging market can be strong sign of 2 things, and they are "low volume" and confusion. If you want the ideal trade, only trade when the Line changes to blue and the pink turns to magenta(pink). With almost all similar tools, they will not identify a "side-ways" range pattern. They assume its the previous trend and continue to signal you. With this, you will not have to worry about that.
Identify Peaks (very strong on higher time frames)
If you are to identify a peak from the Bottom or Top, its very useful. One can make a ton of pips, especially on the higher time frames. Look at this example above, this sell off peak was great. A safe way to trade this one would be to wait for a slight retracement after the peak has been made, like a purple bar, or the orange line to turn around.
A LETTER FROM TREVOR
This is one of the few systems that makes many profitable trades in a row. This was one of our statements in 2008! Look at the transaction amount column.
LATEST TESTIMONIALS
You can also have your picture and review posted. Contact us.
THANK YOU GUYS SO MUCH FOR THIS…

As a proud user of all the Dream Signals systems, I wanted this one because I love the fib-like tool thats included inside. It works better than a fib because it actually auto-plots and gives signals

–Keith Uiad USA

VERY EFFECTIVE FOREX TOOLS. GREAT COMBINATIONS

I like your tools. They implement in my forex style very well. I like to scalp using that ADX MTF indicator that you have. You guys made it well and I hope you come out with Dream Signals 4. I can't wait!

— Horiv Juvanovski, Poland

FXA TRADE IS MY FAVORITE FOREX COMPANY!..

I am not here to hype anything for anyone. I have dealt with many vendors but most of the other ones had slow support, not enough effective support and not performing as good as they claim but FXA Trade, really has this over them all. They always respond fast, they communicate very professionally and have live chat support as well. If your new and want to trade forex, no better company is better than FXA Trade for forex softwares. They are like e-signal and I am so glad I found them!

— Gale Smith,UK

VERY PROFITABLE AND EASY…

This system is easy that even a monkey can do it. The intra-day signal is all I use alone and its so effective and informative. I could say so many good things about this company. I can't find any legitimate flaws abouit their company. They do everything perfect. The only thing I wish is that they started developing some ea's.

— Jason Duke, Australia
AFTER PAYMENT YOU WILL GET:

12 Indicators (.ex4)
Document : AlphonOmega.pdf
DONT MISS THIS CHANCE !!!
[/vc_column_text][/vc_column][/vc_row]
Best offers
Join Risk Free
30 days refund
100% Safe
Secure Shopping
24x7 Support
Online 24 hours
Free Shiping
On all order over